Saturday 20th February 2021
Players from the WA Wind Symphony donated their time and skills towards helping local conductors develop their skills this past weekend.
The Greg McMurdo Memorial Conducting Clinic 2021 saw conducting mentees receive guidance and development advice from guest mentor Matt Klohs, further developing their conducting techniques. The WA Wind Symphony supported this workshop as the senior wind band on the day.
Klohs has previously worked with high-grade wind ensembles in Australia, the UK, and the USA and is in demand as an adjudicator at regional, state and national levels.
The clinic is also supported by the Australian Strings Association (AUSTA), with an additional workshop dedicated to string ensembles which took place on Sunday 21st February.
This will be the second year the WA Wind Symphony has donated its time to the conducting clinic.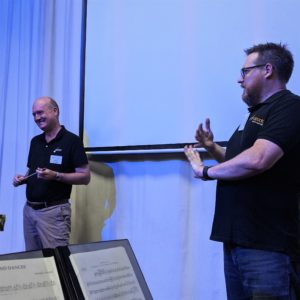 —
The WA Wind Symphony are our three-year-consecutive State Band Championship winners. They will be entering the Australian National Online Festival of Bands Competition and the Western Australian Band Association's State Band Championships in 2021.
Stay tuned for further updates – subscribe to our newsletter!
Follow our social media below to see behind the scenes and more!
West Coast Philharmonic – Instagram & Facebook
WA Wind Symphony – Instagram & Facebook